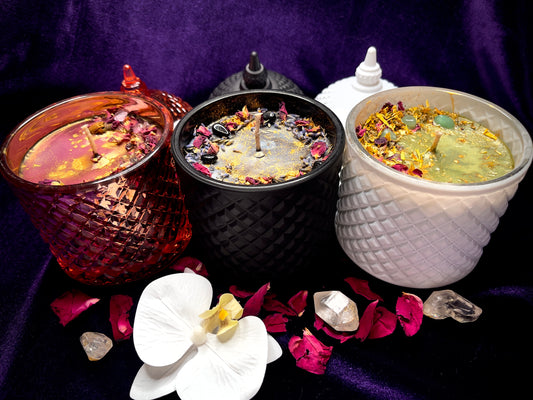 Scented Manifestation Candles!
Our beautiful scented manifestation candles are here! Lovingly hand made in-house in Perth, Western Australia and infused with positive energetic vibes, these beautiful candles smell as amazing as they look!
🕯 The Beauty To Candle Manifestation 🕯

Candle manifestation is a practice used for many years throughout many cultures. Most of us practice candle manifestation in our lives unintentionally and a good example of this is when we make a wish on our birthday cake prior to blowing the candles out! Why is this one of the most affective ways to manifesting our wishes and desires? One of the biggest advantages of candle manifesting is due to it's simplicity. Candles represent the 4 elements : Earth - When unlit, Fire - Once lit, Water - When the wax melts and Air - from the smoke.

Intentionally and consciously practicing the art of manifesting allows us to overcome a range of issues in daily life and empower ourselves to take action to invite the change we wish to create in our lives.

So go ahead and give your positive thoughts, feelings and wishes the extra push you need to manifest your desired outcome. You are after-all the creator to your own destiny! These candles help add a little oomph to your intentions and wishes.
Browse Candles