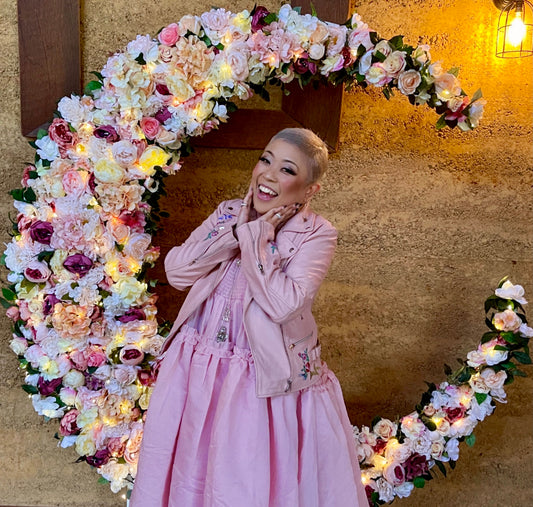 Hiya my beautiful shining stars! 

Merry meet and thank you for visiting my website. My name is Sheereen and I'm based in Western Australia but was born in Singapore. I am a massive lover of Orchids for their very unique beauty and they are also the national flower of Singapore.
I've been a crystal carrying, card reading, essential oil using gal since I was in my early teens. I've however been highly intuitive since I was a wee little one. I was no stranger to having imaginary friends and seeing auras. With time, my natural born gifts have since expanded and I now hold all of the four main avenues to my intuition to decipher and communicate messages from my spirit team, known as the "four clairs": clairaudience (hearing voices), clairvoyance (seeing images), clairsentience (recognizing feelings), and claircognizance (a knowing). With these skills, I'm extremely empathetic and sensitive to different types of energy in turn making it easier for me to work with it to create, manifest and do the things that I do as a spiritual practitioner.

With the guidance of the Divine, my ancestors, spirit guides and guardian angels; this little business was born. I'm so grateful to have found my true purpose and calling. I wish I knew of this sooner but as we know, it's always about divine timing in life. This small business has since become my heart and soul. I have a passion to share what I've learnt with everyone to help them on their own manifestation and spiritual journey. 

I found support through my loving husband, and was able to finally live authentically doing what I absolutely love as a psychic, spiritual medium and qualified Reiki healer as I follow my calling as a light worker. He's not only my twin flame but also my partner in crime running this business together.

All my products are lovingly handmade by me here in Western Australia in our very own sanctuary where we call our home and were intuitively put together with the knowledge I've acquired as a spiritual practitioner but also by my spirit team who have hugely inspired and guided me during the creative process.

Energy and vibe is everything for me and how I live daily so I only channel pure love and positive energy into my products as I create them. I only create my handmade pieces when I'm in a creative, inspired, energetic and happy mood.

Remember to live your life with gratitude daily and embrace your true authentic self! By doing so you'll also inspire others to do the same.

Blessed be, Love & Light
Sheereen